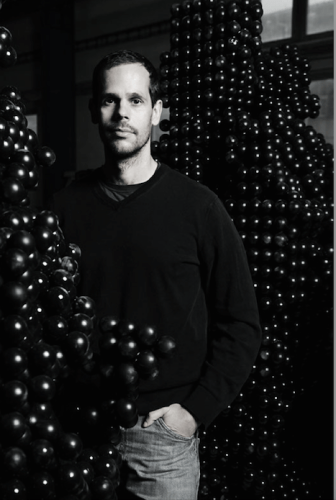 Federico Díaz, a visual artist of Czech-Argentinean descent, lives and works in Prague. Since the 1990s he has used new media to reveal immaterial aspects of everyday reality of our natural environment which are elusive through primary human senses. Recently Diaz's work has shown interest in the so-called 'mass ornament', a concept introduced for the first time by German philosopher, member of the Frankfurt School, Siegfried Kracauer. From that perspective, distinctive socio-cultural features of a certain location are materialized in people's movements, in thus manifested minute nuances of everyday routine acts. Díaz tries to approach these primarily intellectually conceivable marginalia by means of a visual language of his own. Thus a change occurs also in Díaz's formerly rather techno-optimistic approach. He realizes that parameters of the contemporary technology society require a reflection with a broader spectrum of means. Science and technology alone can no longer give enough of answers one needs. That is why Díaz chooses the path of a much deeper analysis of what is real, based upon his study of materials as building blocks of existence, that connect, along seemingly indirect lines, man with his both natural and artificially formed environment.

Federico Díaz has exhibited at the Mori Art Museum Tokyo, CAFA Museum Beijing, Institute of Contemporary Arts London, Center for Art and Media Karlsruhe, Ars Electronica Linz, Massachusetts Museum of Contemporary Art, Art Basel Miami Beach, the Florence Biennale and at the 53rd Venice Biennale. In 2010 he represented Czech art at the World Expo 2010 in Shanghai. In 2007 he received the Premio Internazionale Lorenzo il Magnifico for digital media at the Florence Biennale.

In fall 2016, Díaz will present a new monumental public sculpture commissioned by the City of Sacramento.